Nothing is going to change, unless you do.
Annoying, I know
But mate – it's fucking time. 
Going through the motions,
surviving.
You're better than that, 
even if you don't see it yet.
I do and I will continue to hold that for you, until you believe it too.
Your dreams won't bring themselves to life.
It's up to you to do that
It'll involve fucking off the idea that everything keeps happening to you and instead, putting on your big girl pants and making everything happen FOR you. 
Because if you don't,
noone else is going to do it for you.
So, ask yourself…

Will you keep doing what you're doing? Living how you're currently living? Or, are you sick of your own shit and ready to, you know, just casually, TRANSFORM YOUR FUCKING LIFE
and if it's the latter then giiiiiiiiiiiiiirl, you're exactly where you need to be!
You're here to make living your dream fucking life a goddamn reality. And you're ready to take your business by the balls and make it happen right fucking now.
That looks a hell of a lot like:
🔥 Having a business that supports YOUR lifestyle, fuck living to work, you're working to LIVE, and that work – it's F U N.
🔥 Being crystal clear on your boundaries with your clients, your business and mate, yourself. You know what you want and how to have it, boundaries stop it from becoming an afterthought.
🔥 Becoming one of those annoying fucking people who loves the fuck out of yourself and the life you get to live. Pinching yourself, because this looks a hell of a lot like the life you dreamed of living.
🔥 Feeling free, truly free to run the business of your dreams. You're attracting your dream clients and your business continues to THRIVE, with ease. Showing up is fun and more importantly than that, so does switching the fuck off. Hello alignment. You feel goooooooooooooood.
FUN FACT: LIVING A LIFE YOU'RE LIT UP ABOUT IS HOW YOU DO THAT
Whaaaaaat?!?
Yeah mate, A LIFE, not a business. 
The business part supports the life part. 
It enhances it, 
adds to it. 
We've been doing it wrong, this whole time.
Awkward. I know.
Getting clear on what exactly that looks like for you and creating it based on where you're at with what've got right fucking now
It's how you get to make decisions with ease and a fuckload of clarity. 
How else will you ensure YOU get to wake up every day feeling content, fulfilled and happy?
You know I'm all about building a business and having big ass biz goals but if we're being honest, it's the LIFE stuff that's the real MVP here. 
On your deathbed, you're not going to look back and be the happiest about 
how hard you worked 
or
those deadlines you never missed 
or
how goddamn on point your spelling and grammar always was. 
 Nope.
If you get really honest with yourself what REALLY matters are the people you love, 
the moments filled with laughter and joy, 
the memories of doing ballsy things, 
the people you got to spend time with to create those memories and just living hard out, as you. 
Unapologetically your fucking self. 
Don't wait until your final moments to look back and reflect on the what-ifs or could have-beens. 
Live them now
Today
And when your time is up, know that you're going out having really, truly lived.
Not just worked, really fucking hard. 
And wanna know the kicker?
Once you get clear on what this looks like and start to make it your reality, your business will catch up too, and work can start to look a lot like this:

Having 'less' work to do but making more or just as much money



Knowing exactly what you need to do and how you need to do it - the kind of clarity that comes with knowing you're already living your best fucking life and everything else, well that's just making it even better


Feeling so alive, so on purpose that you not only don't sweat the small stuff, you don't give a single fuck over it - you've got better, more fun things to do.



Having time out with your kids, friends, family and being fully fucking present without your never ending to-do list judgmentally looming over you. Because when you ARE working you're so fucking productive and intentional that your spare time? Well, that shit is in abundance.


Wanna know what it takes to get YOU and your business to HERE?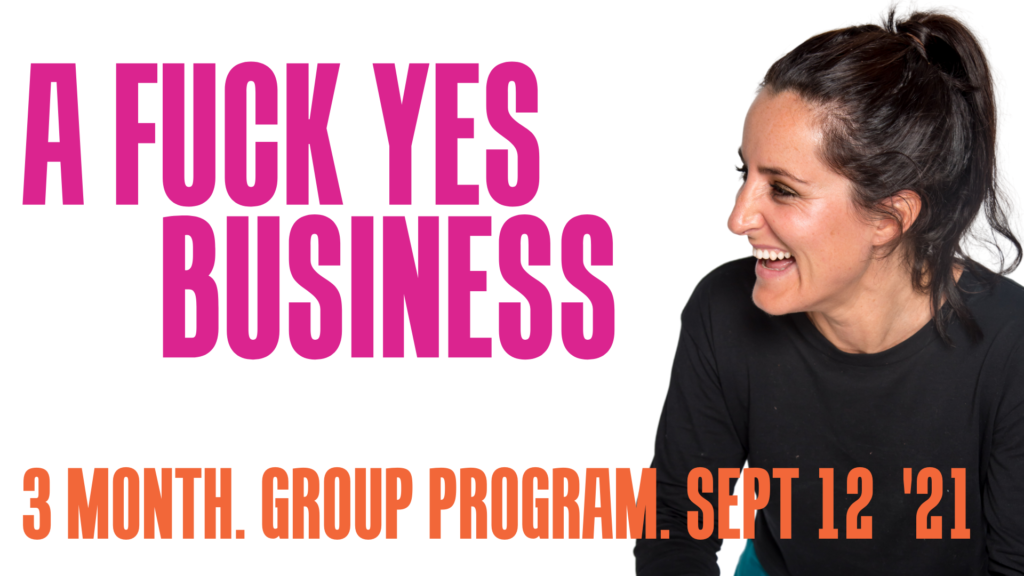 During this 3-month program we're going to redefine life as you know it
I'm talking about the kind of life where 
EVERYTHING FEELS SO GOOD, AND EXCITING, AND FUN AND YOU KNOW EXACTLY WHO THE FUCK YOU ARE and WHAT YOU WANT OUT OF LIFE, so YOU UNAPOLOGETICALLY GET IT
I'm 100% here for YOU having all of the above. And I'm definitely here for it involving sunset beers.
BUT
Nope. 
I don't have time for that and YOU sure as fuck don't have time for that. I'm here to get YOU to have a life that you get to say FUCK YES to, on the reg.
That's why this program has been designed and created to get YOU out of your own fucking way so you can…
Get lit the fuck up by yourself (and your business) and FINALLY radiate confidence, self-belief and fuckloads of TRUST in yourself and what you're up to.
And frankly, the real reason you're here and what I'm so fucking here for, is this:
You'll learn – like REALLY fucking learn
INVESTMENT $3,497
ONE OFF PAYMENT OR
4X MONTHLY PAYMENTS OF $890
🤩 Three months, you + me, with nothing but time to make shit happen and all of the fun along the way.
🤩 Deep dive questionnaire
🤩 1x 60 min 1:1 call,  just you and me.
🤩 Fortnightly intimate group calls
🤩 Guest masterclasses
🤩 Fortnightly voxer support
🤩 Peptalk & Training library
The program kicks off Sunday, September 12 wrapping up December 8. Limited places.
Cart closes Weds September 1st.
WHAT THE FUCK ALL OF THAT MEANS
DEEP DIVE QUESTIONNAIRE
To understand YOU, your biz, why you do it and the impact you wanna have on yourself, your brand and others and because I wanna know who the fuck you are and what gives you life! 
More importantly I wanna get those wheels turning so you start thinking about it because, mate, this is YOUR time to shine.
1x 60 MIN ZOOM HANGS
 Together we will uncover what the life of your dreams looks like for you, how you want to spend your days and what kind of activities you need more of that give you so much joy, knowing you have more of them in your weeks makes you so damn happy. 
Then we will take a look at what business model will best support that, while delivering maximum impact to your customers so you can in fact, have your cake and eat it too. 
And naturally we will create a strategy to get you there. Fun, I know
FORTNIGHTLY INTIMATE GROUP CALLS
Groups will be split into 2 so they're super intimate (and don't go for hooooooours). These will be your mid monthly check ins, so we can see how you're tracking with your strategy, what hurdles you've encountered and celebrate those fucking wins together.
Why groups: If only I could bottle up the magic that happens in groups and dangle it here in front of you but you know, can't.
There's a certain immediate depth that comes in a relationship when you have someone who is going through exactly what you're going through at exactly the same time. Someone who you can fuck the surface level bullshit off and get straight to the good shit. You know, the connection you've been craving but can't always find. So yeah, that's why groups
GUEST MASTERCLASSES
Each guest has been hand chosen, by me, to give you EVERYTHING  you need to:
Know how and what the fuck to setup to get your biz up and running
Build solid structures and foundations within your biz so when it blows the fuck up and money is being thrown at you from every angle, you're all systems go and get to respond with ease
Leverage every resource available to you (there's more than you think), I mean it's rude not to really isn't it? 
 No matter how noisey it gets, giving you access to coming back to you and grounding yourself
This isn't just limited to business training, I'll be bringing in every single toolI use to keep myself cool, calm and collected when the world is burning down around me. So you can too.
FORTNIGHTLY VOXER SUPPORT
Like having me in your back pocket so each week we can tackle all things mindset, as you're experiencing it. Personalised pep talks, reminding you who the fuck you are and what you're here to do when you need it most. 
So when life kicks you in the dick, because it will, you'll kick it back.
PEPTALK AND TRAINING LIBRARY
At any given moment you will have access to 40+ peptalks, that cover what you need, when you need it most. Amongst the peptalks are also a bunch of business and mindset trainings to support you as you go about your journey to the ultimate freedom, redefining the way you do business and life. 
Watch them as you go or binge them all at once, the choice is yours friend. 
So tell me are you fucking IN? Like ALL FUCKING IN?
MATE, KIND OF BUT I NEED A LITTLE MORE ASSURANCE – yeah cool, I get it please hit the button below to where I have anticipated your obstacles and solved them for you. You're welcome.
INVESTMENT $3,497
ONE OFF PAYMENT OR
4X MONTHLY PAYMENTS OF $890
WHY THE FUCK WOULD I DO THIS WITH AMEE?
Let's face it, I have the kind of energy that only a toddler has when left alone with a bag of skittles, and that's on a bad day.
Working with me in this way is as close as you can get to bottling it up and drinking it. Too weird? Fuck no! I've got enough to go around and if having that kind of energy in your life is going to get shit done then – you guessed it – I'm here for it!
Uncovering your magic, what makes you come alive and bringing it to the light of day – powerfully, is my jam. Then getting that translating through to your life, right fucking now! You guessed it, my idea of a great time!
My super power is uncovering what the fuck is in the way of you being your best fucking self and fucking it off - for good.
Also let's not forget that I've spent the last ten years learning all of this the hard way, doing course after course, training after training, healing after healing and a fuck load of life intergration so I'm saving you years AND all of the tears (You. Are. Welcome)
WHAT EXACTLY CAN I EXPECT TO GET OUT 3 MONTHS WITH YOU?
A complete fucking transformation. Together we will completely fucking blow up how you look at the world, your life and business. Don't worry, it wasn't fucking real anyway. Then once you've finished questioning life as you know it we will rebuild it. It'll be unrecognisable in the sense of anything and everything will now be possible for you. But more than that, you'll know how to make shit happen- how you want it to. In every single area of your life. 
HOW MUCH TIME DO I NEED TO GIVE TO THIS EACH WEEK?
Do you want big results or OK results? Answer that question and there's your fucking answer.
I don't think I'm ready right now. I'll just wait till the next one and spend the next few months 'getting ready'.
Ok mate, let's get real for a second. What do you want your life to look like in 3 months? Like go nuts – if you could have anything or be anywhere, where would you be, what would you be doing, and what would your LIFE look like?
Together, that could be a reality by (probs well before) the end of the 3 months, so December 2021. OR you can spend the next 3 months getting ready and be pretty much where you are right now. That's up to you
UGH, I JUST CAN'T JUSTIFY SPENDING THAT AMOUNT OF MONEY... ON MYSELF
You know what mate, you deserve to have a life you can't wait to wake up every fucking day to live.
You deserve an abundance of ALL THE THINGS. Of time, money, energy, customers and a mother-fucking abundance of self fucking worth! You know how I know? Because you're here, reading this right now which tells me you know that you're destined for something more than how you're feeling right now.
If you show up prepared to do the work I fucking KNOW that together we'll make that happen, in fact by the end of the program you'll be wondering why the fuck it was so cheap!
"Umm... I mean, who goes into any program and walks out as a politician. Haha! For someone playing small to go fuck it, I'm standing in front of my district and preachin' truth...
​I always walked through my day feeling like something was missing. Like my direction was way off. NOW I walk through my days ON purpose, WITH purpose and FOR a purpose. I am so much clearer and focused than I've ever been.
Now I have the freedom to stand up and be the person I was born to be. EVEN though it's extremely uncomfortable… it's bloody exhilarating.
​
​Amee literally changed everything for me.
How I saw myself, how I saw my life, how I saw parenting, how I saw living. I wasn't clear on my direction, something huge was missing.
​She got me out of my own way so I could see everything so much clearer and uncovered the courage that I already had, she just lit it up!
And there was no beating around the bush, no long rabbles. It was a straight to the point, hardcore, move your arse kind of course. 20 out of 10 would recommend."
You'll get out of this what you put in. I will give you everything you need but YOU have to become the type of person who follows through, who shows the fuck up for themselves and by doing this you become the person who people in the street throw their wallets at because they can NOT wait to get a bit of you and what YOU do, regardless of whatever the fuck that is. I've designed EVERYTHING in this program to help you BE this person, but I can't do it for you.
Alsooooo
If you're looking for someone to tell you you're doing a good job and politely make suggestions, then you should abort fucking mission immediately.
I mean it! Close this page down and walk the fuck away because I am NOT for you. I am blunt. I have no filter and zero desire to sugar coat any-fucking-thing. Ever.
I am direct and I WILL motivate you to get shit fucking done in a way that makes you feel fucking invincible.
You'll probs hate me a little bit, ok a fucking lot, but just know I've got your fucking back through this no matter what and I am going to show up for you knowing that you're capable of amazing shit, even if you don't see that… yet.
"I actually found my voice..."
What I actually got out of 3 months with Amee was so much more valuable than just content. I actually found my voice. (one moment please,  Amee here, know what else she got? LESS clients but same money, more sleep and more fam time, I'll let you do the math there ok back to Michelle!)
What I got from 3 months on purpose was learning to trust in myself, my knowledge, my biz. Amee gave me little exercises to help focus on what it was I had to do and to also make myself a priority. She also helped me cut a lot of the noise, got me to move out of my way and got me to face some pretty big fears that I'd been burying for some time. I'm still on some of that journey, but I'm so much better for it now, the self-doubt is still there, but I seem to move through it quicker, and most importantly…
I have one non-negotiable that when all hell breaks loose, it brings me back to centre and I start again. Minus the BS.
So a massive thank you Amee, it wasn't the content I was expecting to write, but it's so much better. I've come out of my little shell and you've definitely helped me turn my biz life around, especially as a Mum in biz. I know it was all sort of there to begin with, but you were that little beacon of clarity and purpose in amongst that noisy fog.
Good lord, why are you still here reading?
You saw those big white or purple buttons to book one of the 10 spots, right?
YET, you're still here.
This tells me… one of these two things is probably hitting home right now:
You're no spring chicken to the 'self-development' world but you're hesitant to commit to this in case it's not the 'right' thing.

Or maybe you know shit needs to change, but you're not sure if you wanna go all in yet…
If either of these is ringing true, you' *might* also identify as someone who struggles to make a decision powerfully.
So…
How would you like to fucking become one?
Let's get you off that fence and into a fuck yes or a hell no!