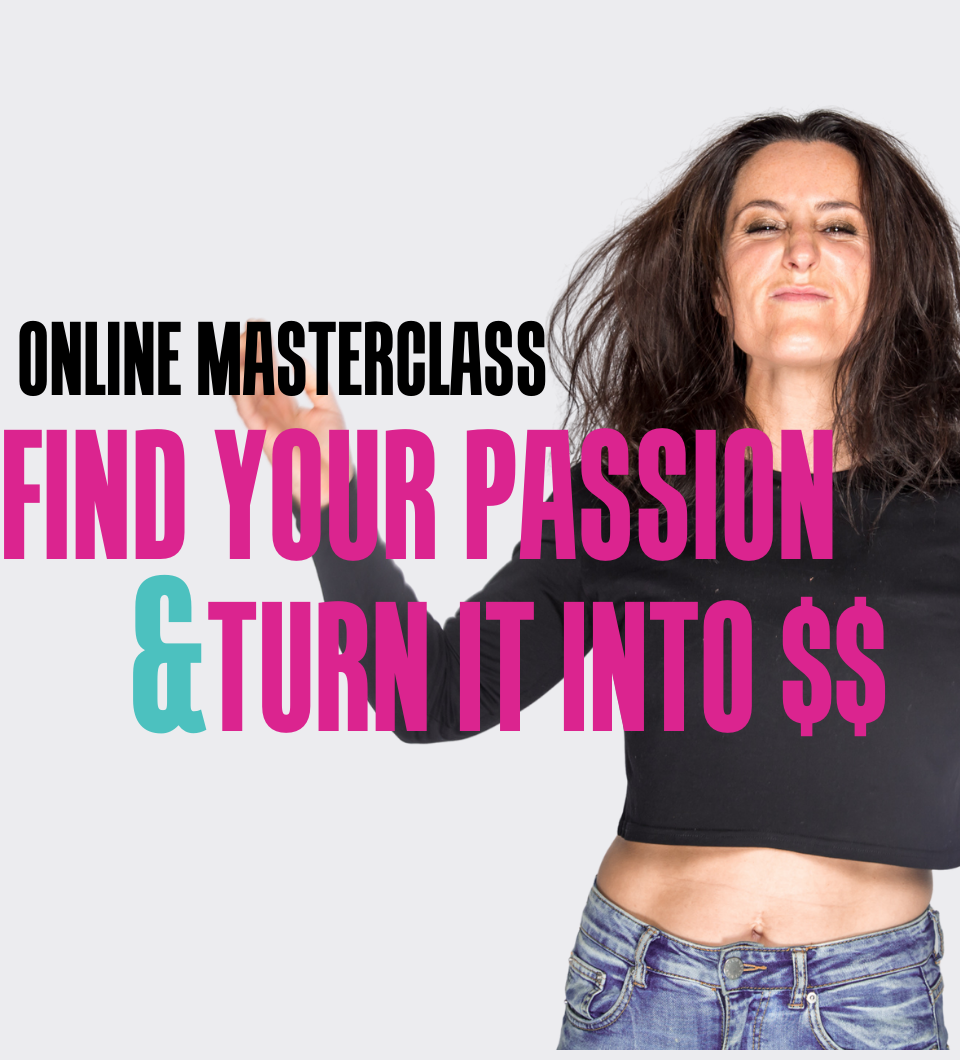 ONLINE MASTERCLASS - FIND YOUR PASSION & TURN IT INTO YOUR JOB
Ready to find your passion and/or purpose and start making money from it?
In this 48 minute recording you'll be given simple steps to…
🔥 Discover what your passion/purpose is
🔥Look at different ways to make money from it
🔥 Identify what's going to get in your way and get ahead of it before it does
🔥 Get motivated to change shit up and go from simply surviving to thriving   
Ready to go when you are, buy it now for instant access
DON'T TAKE MY WORD FOR IT
Umm... I mean, who goes into any program and walks out as a politician. Haha! For someone playing small to go fuck it, I'm standing in front of my district and preachin' truth...

​I always walked through my day feeling like something was missing. Like my direction was way off. NOW I walk through my days ON purpose, WITH purpose and FOR a purpose. I am so much clearer and focused than I've ever been.

Now I have the freedom to stand up and be the person I was born to be. EVEN though it's extremely uncomfortable… it's bloody exhilarating. ​
​Amee literally changed everything for me.
How I saw myself, how I saw my life, how I saw parenting, how I saw living. I wasn't clear on my direction, something huge was missing.

​She got me out of my own way so I could see everything so much clearer and uncovered the courage that I already had, she just lit it up!

And there was no beating around the bush, no long rabbles. It was a straight to the point, hardcore, move your arse kind of course. 20 out of 10 would recommend."
Michelle Birch
@michellebirch.com.au + @kuntykards
"I actually found my voice..."

What I actually got out of 3 months with Amee was so much more valuable than just content. I actually found my voice. (one moment please, Amee here, know what else she got? LESS clients but same money, more sleep and more fam time, I'll let you do the math there ok back to Michelle!)

What I got from 3 months on purpose was learning to trust in myself, my knowledge, my biz. Amee gave me little exercises to help focus on what it was I had to do and to also make myself a priority. She also helped me cut a lot of the noise, got me to move out of my way and got me to face some pretty big fears that I'd been burying for some time. I'm still on some of that journey, but I'm so much better for it now, the self-doubt is still there, but I seem to move through it quicker, and most importantly…

I have one non-negotiable that when all hell breaks loose, it brings me back to centre and I start again. Minus the BS.

So a massive thank you Amee, it wasn't the content I was expecting to write, but it's so much better. I've come out of my little shell and you've definitely helped me turn my biz life around, especially as a Mum in biz. I know it was all sort of there to begin with, but you were that little beacon of clarity and purpose in amongst that noisy fog.